La vera pizza margherita napoletana (authentic Neapolitan cheese pizza) – Campania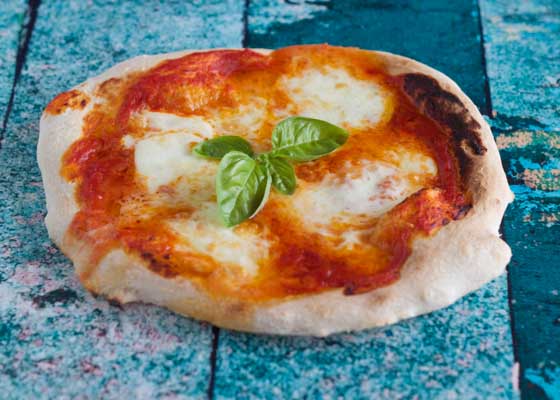 Recipe type:
Primo (First course)
Serves:
6 individual pizzas
If you have a pizza stone then put it in your oven before turning it on to the highest temperature your oven can go (but not on broiler). My oven goes to 250˚C. Be careful to never get the pizza stone wet, move it from hot to cold or cold to hot, and never place it on the bottom of the oven floor or it will break. Heat the oven to the highest temperature possible.
When the oven is hot, take your pizza stone out and place it on some dishcloths, working quickly pull one ball of dough, stretching the dough as thinly as possible without breaking the dough but making it as thin as possible in the middle and the crust can be a bit thicker.
Preferably, place the dough directly on the stone. If it is easier, place it first on baking paper and then on the stone.
Top the dough with 40 grams of tomato, a pinch of salt, a shake of the black pepper and a drizzle of 5 ml of olive oil. ensuring there is at least 1 cm crust around the edges which is free of toppings.
Use your hands to place 100 grams of the mozzarella, broken into 3 or 4 pieces, onto the pizza ensuring to space it out evenly. Do not try to cover the entire pizza evenly with cheese. The cheese should look like islands on top of the pizza. Top with 2 leaves of basil.
Repeat with the rest of the ingredients until you have made 6 pizzas.
Put in the oven for 5 to 15 minutes, depending on the temperature of your oven. The cheese should be melted, the crust cooked,and part of the pizza should start to turn golden. It is best if the cheese does not colour. Remove and serve immediately. Repeat with the rest of the dough.
To create variations, any toppings can be placed on the pizza- the only limit is your imagination.
Recipe by
Living a Life in Colour
at http://www.livingalifeincolour.com/recipes/la-vera-pizza-margherita-authentic-neapolitan-cheese-pizza-campania/