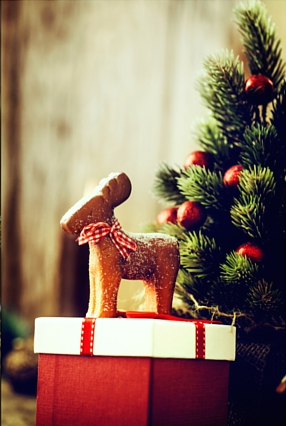 There are a few evocative Christmas foods that elicit childhood memories from a simpler time. Christmas and childhood are intertwined and that festive feeling of families coming together to celebrate the season is one that no child forgets. For some people Christmas means roast chestnuts, roast turkey, goose or beef, traditional cakes, tarts and puddings made with dried fruit or orange, mulled wine or special Christmas biscuits.
For my husband, it can only be cappelletti, a slightly larger version of tortellini, that originates from Emilia Romagna. They are a fresh egg pasta filled with different combinations of lean meat, prosciutto, breadcrumbs, Parmigiano-Reggiano cheese, spinach or chard, ricotta or raviggiolo cheese, sausage or mortadella. It is served in piping hot meat broth with a sprinkle of Parmigiano-Reggiano cheese and it fills one's soul with warmth.
There is much fussing over the broth which starts cooking early in the day. I enlist the help of little hands to roll and stuff the pasta. The truth is that much of the joy is derived from forming the cappelletti together while eagerly anticipating eating them.
First the hot broth washes over your tongue followed with a bite into the silky pasta which explodes with flavours of the salty prosciutto, the juicy veal and the crystalline Parmigiano-Reggiano cheese. Each bite is a perfect mouthful.
Recipe:
Cappelletti in brodo (meat stuffed pasta in broth)
When I make cappelletti, I make a lot of them so that I can freeze some for future use. To freeze them, place them on a floured tray (that fits in your freezer), cover it with cling film and place in the freezer. Once they are frozen, pop them into a labeled Ziploc bag. Use within 6 months.
For illustrated step-by-step instructions, click here.
Serves 8

30 gms butter, unsalted
225 gms lean mixture of meat: pork loin, veal loin, and chicken breast, finely chopped by hand
1 egg
2 pinches nutmeg, finely grated
50 gms prosciutto, finely chopped
50 gms mortadella or beef bone marrow or a mixture of the two, finely chopped
100 gms Parmigiano-Reggiano cheese plus more for serving
Fresh egg pasta
Meat broth
In a small sauté pan, heat the butter over medium heat. When the butter has melted, add the meat mixture and turn the heat to low. Cook until the meat is cooked through but do not let it dry out (about 3 minutes each side). Remove it from the pan and let it cool. Reserve the cooking liquid in a small bowl.
In a medium sized bowl, mix together the cooled meat, egg, nutmeg, prosciutto, mortadella, bone marrow, and Parmigiano-Reggiano cheese.  Cover the mixture with cling film and refrigerate for at least an hour.
Roll your pasta to the last (thinnest) setting on your pasta machine. Cut the pasta sheets in half if they are getting too long. Flour your work surface lightly and keep the pasta you are not currently working with on the floured surface. Cover the pasta with a damp towel to keep it moist. Flour a baking sheet and have another damp tea towel ready.
For this part it is best to enlist the help and companionship of friends and family. This will transform the process from work to fun. Take one sheet of pasta and using a paring knife or pasta cutter cut it into 3-5 cm squares. Take a 1/4 teaspoon of filling and place in the centre of a square. Fold the pasta over so that the corners meet and form a triangle. Pinch the edges shut pressing out any air inside. Sit the filled pasta up with the center corner up and bring the two bottom corners together. Fold the top corner back slightly. If your pasta is not closing well as it is too dry, dip your finger into the reserved meat cooking liquid and moisten the edges to close. Place finished cappelletti on the floured baking sheet and cover with the damp tea towel.
Bring the meat broth to a simmer. In a separate sauce pan, bring 4 litres of water to a boil over medium heat with 40 grams of salt. Add 30 cappelletti to the water and turn the heat to low, do not let the water boil. You can add some cold water to the pan to prevent this. You will need to cook the cappelletti in batches. When the cappelletti float (1 minute after the water comes close to boiling), remove with a slotted spoon to the serving bowls. Ladle the meat broth into the bowls. Sprinkle Parmigiano-Reggiano cheese over top and serve.
What is your family's favourite Christmas dish?