Many of us have holiday baking on the cards for this week. One to add to your repertoire are Susumelle, deliciously spiced gingerbread biscuits dipped in chocolate. Pop one in your mouth and the flavour is the epitome of Christmas. They are easy to make and last for ages in sealed tin. I let the children weigh and mix the ingredients. We shape them together then I melt the chocolate and let them dip them.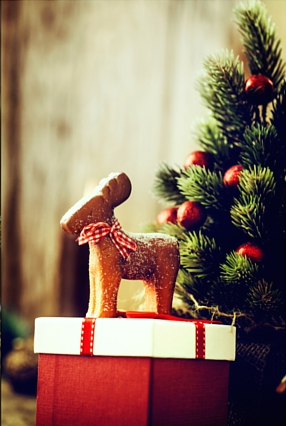 Looking for other ideas for Christmas cooking? On Christmas Eve, we have dishes such as stuffed cappelletti pasta in broth or with gravy; fish prepared different ways: baked in a salt crust, fish with fennel, fish baked in parchment, fish baked with potatoes and vegetables. For interim meals between the big meals, we have lots of antipasti such as bresaola, piadine flatbreads, bruschetta with limitless toppings such as black cabbage, focaccia, salumi with different salamis, mortadella and prosciutto, rough chunks of Parmigiano-Reggiano cheese, olives, and pecorino cheese with honey; salads such as orange and fennel salad, farro and courgette/zucchini salad, crudités and puntarelle salad; and a lasagne. On Christmas Day, for our main meal we have roast goose or duck with cherries with roast potatoes and vegetables.
Have an amazing holiday season. I wish you all a relaxed time with your loved ones.
Susumelle (chocolate coated gingerbread biscuits) – Calabria
This is based on a recipe on Lei TV Italy. For illustrated step-by-step instructions, click here.
Makes 36 biscuits
500 grams 00 flour
80 grams cocoa powder
250 grams sugar
2 grams (1 teaspoon) cloves, finely ground
5 grams (2 teaspoons) cinnamon, finely ground (my favourite is Vietnamese cinnamon)
16 grams baking powder
240 ml oil (preferably canola, rapeseed, etc)
250 ml milk
200 grams dark chocolate (can substitute milk chocolate but then heat the chocolate to 40C (105F) and reheat to 31C (85F))
Preheat the oven to 180C. Line two baking sheets with parchment paper.
In a large bowl, mix together the dry ingredients: flour, cocoa, sugar, cloves, cinnamon and baking powder. Use a wooden spoon to stir in the oil and milk.
Roll the dough to make oval biscuits 6 cm by 2.5 cm and place on the baking sheet. Leave a 1 cm gap between the biscuits. Bake for 8 to 10 minutes or until the top begins to crack and it is slightly firm to touch. Let the biscuits cool.
Chop 2/3 of the chocolate and melt in a bain marie, stirring constantly (ensure the bottom of the top bowl does not touch the water and do not allow any water into the chocolate). Finely chop the remaining 1/3 of the chocolate. When the chocolate in the bain marie reaches 49C (120F). Remove from heat and add the finely chopped chocolate, stirring until the temperature cools to 28C (82F). Reheat the chocolate to 31C (88F). Dip the biscuits and let cool on the baking sheet. Serve.