Tajarin al tartufo (Tagliolini with white truffle) - Piemonte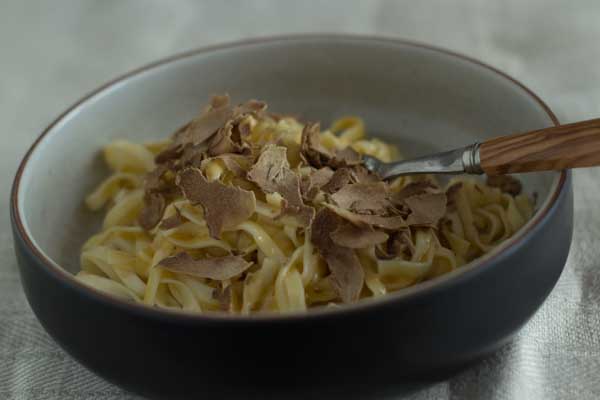 Recipe type:
First Course (Primo)
Bring a large pot of 6 litres of water to boil and add 60 grams of sea salt.
Mix the Parmigiano-Reggiano cheese together with the black pepper and the nutmeg. In a sautepan over low heat, melt the butter (do not cook out the butter solids or allow the butter to change colour). The butter should just melt and not become "oily".
Add the pasta to the boiling water for 1-2 minutes.
Once the butter has melted, add the Parmigiano-Reggiano cheese mixture and a small pinch of salt, stirring with a whisk or fork to keep the mixture emulsified as the cheese melts. Once melted, stir in the chicken stock.
Remove and strain the pasta when done. Add the pasta to the butter sauce, tossing to coat the pasta. Divide the pasta between two bowls and shave the truffle evenly over the two bowls. Serve immediately.
Recipe by
Living a Life in Colour
at https://www.livingalifeincolour.com/recipes/tajarin-al-tartufo-tagliolini-with-white-truffle-piemonte/