We had an amazing family trip to Rome and Abruzzo a couple of weeks ago. I wandered the streets of Rome at dawn drawn to the Campo dei Fiori market. If ever there was a doubt that autumn had arrived, the market would negate any lingering skepticism as it was in full bloom with every shape and hue of pumpkin, mushrooms, baskets of chestnuts, ruby red pomegranates, fragrant bergamot and delicate orange persimmons/sharon fruit. Unfettered by small children or a proper husband (all discouraged by the early hour) I felt free to gape at the displays of vegetables and fruit.
And while it is true that part of the market caters to tourists with its displays of limoncello, olive oil and an array of dried herb mixes, the market is indisputably seated in an area rich with long-established food shops. Orelli, a traditional butcher famous for abbacchio (milk-fed lamb), used in the famous Roman dish abbacchio alla romana (lamb stewed with rosemary, garlic, chilli and anchovy), is nearby. On the square itself sits Antica Norcineria Viola with its traditional selection of sausages, coppiette (sort of a jerky made from pork), salamis, prosciutto, zampone (a cured sausage encased in a pig's trotter), etc. A couple minutes walk takes you to many many other wonderful food shops like Antico Forno Roscioli, a bakery which makes Roman pizzas, traditional breads and superb cakes and pastries, and its nearby cafe offering traditional Roman delights.
My list of favourite Roman dishes is a very long one: mozzarella in carrozza (sort of a deep-fried cheese sandwich), supplì (rice croquettes with mozzarella cheese), carciofi alla giudia (deep-fried artichokes), cacio e pepe (pasta with pecorino cheese and black pepper), carbonara (needs no explanation), abbacchio (milk-fed lamb grilled or stewed), stracchetti (fried thinly shaved beef), saltimbocca (veal escalope fried with prosciutto and sage), carciofi alla romana (braised stuffed artichokes), puntarelle chicory and gnocchi all romana (semolina discs baked with Parmigiano-Reggiano and butter). Now that the weather is starting to turn bitterly cold, a hot oven makes a warm and cosy house. Here is the recipe for creamy semolina slices baked until golden topped with butter and melted Parmigiano-Reggiano cheese.
Gnocchi all romana (semolina slices baked with Parmigiano-Reggiano) –Lazio
Some chopped ham can be added to these, if desired, at the same time as the eggs are added. The dish can be prepared in advance and baked just before it is to be served. For step-by-step illustrated instructions, click here.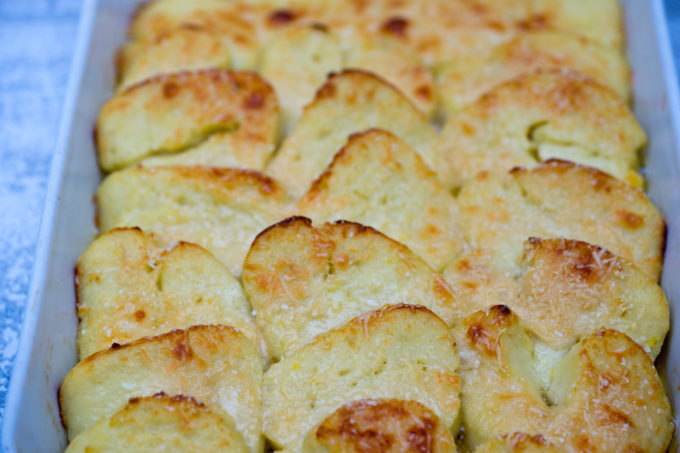 1 litre milk
400 grams semolina
100 grams Parmigiano-Reggiano cheese, finely grated
75 grams butter, melted
Preheat the oven to 200C.
Bring the milk to boil in a large pot. When boiling, sprinkling in the semolina in a little at time (this method is called adding it like "rain" in Italian). Keep cooking, stirring constantly over low heat until the mixture firms up and comes away from the sides of the pan, about 20 minutes. Beat in the egg yolks, 10 grams of salt and half of the cheese.
Traditionally, this mixture would be spread while hot across a wet plate or sheet pan to a thickness of 5 to 10 mm and allowed to cool. It would then be cut into squares or discs (using a cookie cutter or wet glass). I find that by cutting circles, this leaves a lot of excess waste. Instead, I prefer to pour it while tepid onto parchment paper and roll it up so that it is about 4 cm in diameter. I secure the paper with toothpicks or clips. When cool, put the roll in the refrigerator to firm up further. When firm, I unroll the paper and slice the semolina into 1 cm discs. However, they won't be perfectly round like they would be if you used a cup. Either method is fine.
Grease a baking tray and add the semolina discs, drizzling butter over and overlapping them in a single layer. Pour any remaining melted butter evenly over the top and sprinkle the remaining cheese over top. Bake for 10-20 minutes until golden.