Autumn is here and new varieties of apples and pears are popping up daily at the local fruit vendors. Crates full of gleaming red and green apples and pears in all shapes and sizes are too good to resist in the peak of their season. While apples are available year-round, they are picked now and are juicy and crisp inside. Later in the year they will be dry and mealy.
This weekend I spied wild mushrooms, nestled in their little baskets at the market. Too good to resist, I nabbed a bag and ran home to saute them with some garlic, parsley and splash of vinegar. When the mushrooms began to release their juices into the hot pan and sputter, I toasted some bread which was to be their bed. The mushrooms now carefully placed on top of the toast, I sliced off some cheese to tuck them in and placed them under the grill to nicely melt. The oozing creamy cheese and the earthy mushrooms on the crisp toasted bread are the perfect mouthful of autumn. Enjoy!
If you don't eat dairy then just leave the cheese out and no need to place in the oven. If you are gluten free, then use gluten-free bread. For step-by-step instructions, click here.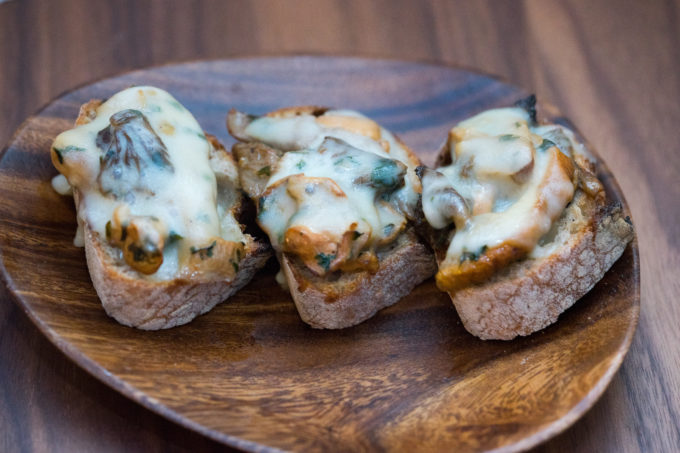 300 grams mushrooms (it is nice to have at least half porcini mushrooms and some wild mushrooms), cleaned with a damp tea towel, stems removed and discarded (except for the porcini) and sliced into 1/2 cm pieces
1 garlic clove, skin removed (can finely chop if you like garlic)
20 mls extra-virgin olive oil
10 grams flat leaf parsley, rinsed, dried, leaves picked and finely chopped
5 mls red wine vinegar (or sherry vinegar)
4 slices of country bread or baguette, sliced 1 cm thick
4 thin slices taleggio or Parmigiano-Reggiano cheese
Black pepper, freshly ground
Heat the oven to 200C or heat the grill. Place the garlic and olive oil in a frying pan over medium heat until the garlic begins to cook. If you are using whole garlic, cook until it becomes golden in colour and then discard. Add the mushrooms to the pan with parsley and some salt and pepper. Keep moving the mushrooms to ensure the garlic does not burn (if using finely chopped garlic). You may need to add a drop of water occasionally to ensure that the garlic does not burn. When the mushrooms begin to drop their liquid, add the vinegar and let it evaporate (a total of 5 minutes).
Meanwhile toast the bread. Place the bread in the pan and top with the mushrooms. Place the cheese on top and place under the grill for a couple of minutes until melted. Serve hot.